Professional Track Fitting
Curtains, Curtain Tracks and Poles, Blinds and window dressing fitting
Professional Track Fitting
Curtains, Curtain Tracks and Poles, Blinds and window dressing fitting
Special window shapes
Bending/curving
​
The track can be bent and reversed bent to a 10 cm (4") radius for bay windows.
​
​
​
​
​
Additionally the track can be continuously curved for special windows like arches, bows and circles.



​
Ceiling bracket




Wall bracket aluminium single
A) 7,5 cm (3"): B) 6,3 cm (2,5")
A) 10 cm (4"): B) 8,8 cm (3,5")




Wall bracket aluminium double
A) 15 cm (6"): B) 9,2 cm (3,6"), C) 4,5 cm (1,8")
A) 20 cm (8"): B) 9,2 cm (3,6"), C) 9,5 cm (3,7")




Wall bracket aluminium triple
25 cm (10")


Product information
Incredibly easy to draw and suitable for all types of medium weight curtains except eyelet

Very easy to assemble and install with Klick- in brackets for ceilings and a variety of wall fixed brackets

Bay window & Bow window compatible. Can be bent and reverse bent to a complete U-turn ! or curved to a circle!

Especially useful for unusually shaped windows and arched windows

The carriers are heavy duty and can be clicked into the track. Made from Nylon 6 which doesn't degrade in sunlight, they are very smooth and easy to draw and have an off-set eye for straight hanging pleats.

This track is wave system compatible

The maximum weight the track will carry is 8 kg per linear metre. It's more likely the fixings will fail before you get to this weight.

Colours available:

From my stock: white

From UK stock: silver, brown, black,

From NL stock: off-white, sand, terra, red, blue, yellow, gold and green.

Special RAL colours: available to special order for large projects

Available lengths: from stock any length up to 6 meter (19'8"), (7 meter (23') to order )

Track finish: powder coated with a factory applied patented Teflon dry lubricant.
​
​
​
​
​


For use in
• Hotels - offices - schools - healthcare - houses - boats - campers - planes
• or anywhere an efficient hand drawn system is required.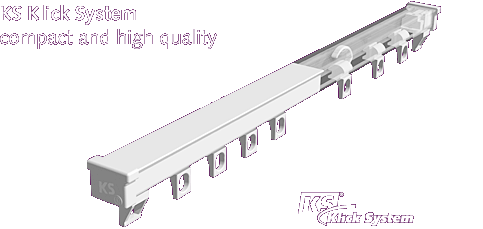 Applications
​




​




Mounting brackets

Wall bracket
3,5 cm (1 3/8")
6 cm (2 3/8")



A) Min. 10 cm (4")



A) Min. 15 cm (6")




Other brackets are available. Brackets need
to be placed every 60 cm (24").
​